In this new year, I completely agree with one of my close friends,
Juleah
: Rather than setting ourselves up to fail and fall short of specific goals, why not try to focus our lives and hearts on what matters over all? Then the other things will eventually align with the vision of Christ.
So, rather than making a list of
I Plan To
's and
I Will Not
's...this year my focus will be on this scripture and letting it find a home in my heart:
"You shall love the LORD your GOD with all your heart, with all your soul, and with all your might. And these words that I command you today shall be on your heart. You shall teach them diligently to your children, and shall talk of them when you sit in your house, and when you walk by the way, and when you lie down, and when you rise" (Deut. 6:5-7 ESV).
I think God's Word speaks for itself here; all that is needed from me is to allow Jesus to submerse my heart in a consuming love for HIM.
Then
I can see those tiny details surrendering, being recreated into a sweet reflection of HIM.
The word Deuteronomy means "a repeating or retelling of the law." More than "weight loss" goals or "stop being lazy" goals or "keep my mouth shut" goals, I want to simply
repeat
God's Word day after day. To help me do so, I've mounted this passage to our living room wall. I hope it will not become an ornament that I eventually start looking past, but that I will
re-tell
it to my children, re-fresh my spirit with HIM, re-mind myself who HE is, and
re-hide
His Word in my heart.
And may we
remind
one another of His Word this year.
Happy New Year!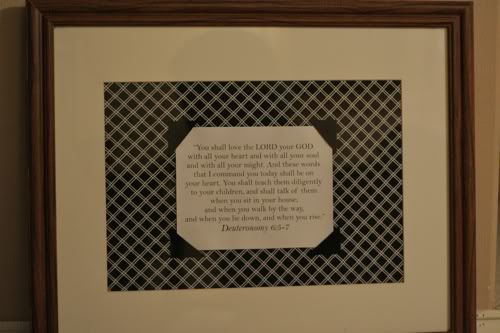 Peace of Christ to you,