Here he is today:
He's come a long way: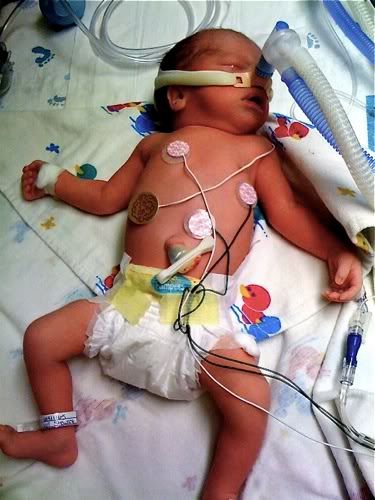 Please pray for Caleb's breathing. He's started to de-sat (which means his oxygen saturation level goes down) when he eats. Pray that this will fix itself very soon; I am ready to take my baby home and be with my family. He also lost some weight since I tried to breastfeed him a couple of times. But now he's back on bottle feeding (I pump, so he's still getting my milk), and I'm hoping when they weigh him tonight that he'll have gained some.
Today two ladies from my church completely surprised me and showed up at the hospital to kidnap me for a birthday lunch! (Today is my birthday.) They certainly helped my emotions today! Thanks for all the prayers for Caleb. Please keep them up!
Peace of Christ to you,