Monday night we celebrated our 8th anniversary with some time to ourselves, which was wonderfully refreshing. For a mom who uses words like "share," "diaper change," and "sippy cup" throughout the day, adult conversation is restoring and healing. I'm thankful that my husband understands that!
Matt came home with red roses for me and a beautiful card that said I'm perfect, etc. :) We don't do flowers very often at all (which is my preference because they usually feel like a waste of money, and I'm too practical), but once in a while it is nice to be surprised with a few!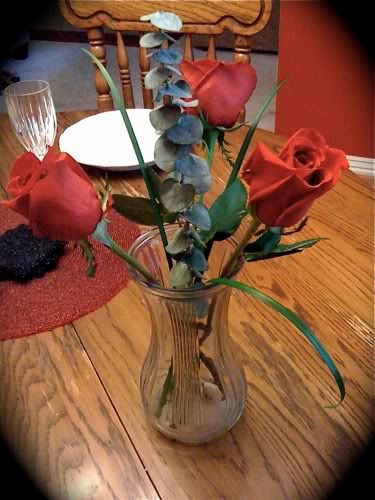 We had a lovely dinner
in
rather than going
out
, and I enjoyed it even more than I hoped I would. We cooked together--before you think I did it all myself--and enjoyed candle light along with a perfectly peaceful dining room. No noise but our own voices. I even broke out our Mikasa dishes and crystal glasses! We savored salad, then lemon-peppered chicken and rice without one cross "Sit down" or "Eat your dinner!"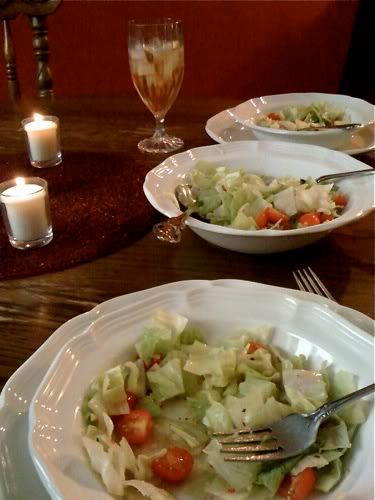 Afterward, we drove 30 minutes for dessert. Applebee's has this incredible "Triple Chocolate Meltdown" that is just
heaven in a bowl
. (I forgot to snap a shot until we'd already begun diving in!)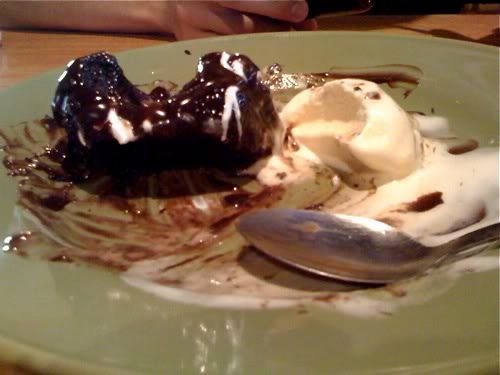 Next, we strolled across the parking lot to one of our favorite nerd places full of books, magazines, and movies. We usually split off shortly after passing through the front glass doors since we have
just slightly
different interests. :) When Matt found me on the floor in the Christian children's section with books surrounding me on the floor, he laughed. "Of course," he said, grinning at his hopelessly mothering wife.
Before I allowed myself to ruin the books with my pregnant tears, I decided I'd better move on to another section. This time I moved to read part of "The Hiding Place" by Corrie Ten Boom--a book I've ashamedly not yet read. If you haven't either, I think we should read it together.
I left with a pronounced awareness of how blessed I am. I don't understand why some people were chosen for such treacherous lifestyles while I was chosen for...a life with evenings such as these.
I'm thankful with a strange cognizance of the fragility of my comfort. While I drive around in a Toyota and eat fudge-drenched brownies, other human beings--image bearers of God--will meet Him today for lack of rice. Does this ever trouble you?
Before you think I'm out to depress you (because I'm not!), I hope you'll see what I carried away from our evening: I've settled into a peace that what God has called me to is what He wants me to engage in for the moment. Our chocolate meltdown was a blessing from God! It's not a sin to enjoy an anniversary evening with your husband simply because the world is riddled with hardships. But He also doesn't want us to live in a vacuum where we are unaware of others' hardships, and even tragedies. These most often increase our joy and gratitude for the sweet blessings He's supplied for the day.
I hope you have sweet moments in which you are moved by His generous heart and that you are compelled to pray for those who are not walking such a soft path right now.
Any day the soft dirt beneath our feet could give way to piercing rocks, and we'll need the strong prayers of those in seasons of blessing to carry us on.
Peace of Christ to you,