I like being organized; unfortunately, I'm not always just that! I buy things to "get organized" and then forget to actually, um,
use
them. I had bought Keagan a Responsibility Chart last year, and we were using it for a while. I'm not completely sure why we stopped...but we did.
Anyway, I'm over it.
I pulled it out again, this time with a different idea! I thought it'd be good for Matt and I to use it to keep ourselves on track every day with what we need to accomplish. Matt likes it and plugs the information into his phone calendar for the week. Seems kind of elementary, I know, but hey, it's working so far!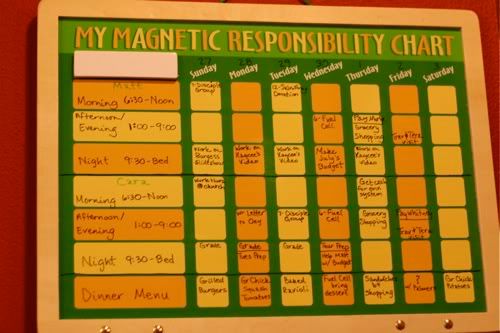 It didn't take long to figure out what should occupy the bottom white board. Keagan is working for money to buy this special toy since we went to see Toy Story 3 in the theater:
So, this is the system we've set up for him:
These are chores that take a while and are "infinity"...er..."above and beyond" what we normally expect out of him. I actually made what could've been a pretty big mistake yesterday morning by letting him clean his room for money. (We quickly realized the folly in this and won't be doing that again!) He should do this on his own simply because it's
his
room. "Payable work" includes chores like: helping Daddy take out the trash every Tuesday evening for trash day, helping Mommy pick weeds in the flower beds and watering the plants, helping Mommy dust/vacuum/sweep, helping clean the (whole) kitchen-not just clearing the table like the board says (it's the only magnet we have for that!), and helping do the laundry.
Last night Keagan helped me pick a LOT of weeds and then he watered my plants for me. That took over an hour, so I don't think $1 is too much. And earlier in the afternoon he helped Matt clean the kitchen and then started the dishwasher by himself. Matt was worried about how broke we're about to be! But most of these will not be everyday chores, like the trash and picking weeds. He said, "I don't have that many dollar bills lying around!" So, we decided to do the smiley faces that represent $1 and then payday will come once a week or just when we get paid. It was really cute watching Matt explain that to Keagan. He's right--we don't get paid every day after we're done working; we have to wait for payday to come!
So far, Keagan has $3, and he's learning some hard lessons. It's good to hear Matt teaching him, "Sometimes things we have to do to earn money are not easy or fun", "It takes patience", and "You'll appreciate your new Buzz Lightyear so much more if you earn it yourself." Matt is such an incredible dad; I'm very blessed to have him teaching our children so much!
I'll try to update on how Keagan's work ethic and earning is coming along now and then! It's funny to hear him choose "work" over playing on the swing set.
Peace of Christ to you,