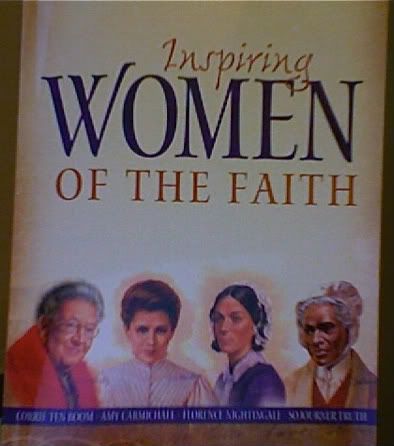 I've been surprised at how enthralled I've become in this book. Had you told me a couple of years ago that I'd be reading something like this--and enjoying it--I would have laughed! But I came across it while in LifeWay and confronted myself with the embarrassing fact that I know little to nothing about faithful women of the past. So, I thought it'd be worth the $10 investment. And it is. (In case you can't read the small print, these are biographies over Corrie Ten Boom, Amy Carmichael, Florence Nightengale, and Sojourner Truth.)
I've also been going through Numbers. Wow, what was I thinking, choosing such a dry book to start the year off?
Is that okay to say?
Seriously--so far, it's all about formality and where the tribes should camp around the tent of meeting. I am learning something, though. Mostly how grateful I am that God does not still require such ritualistic obedience and worship. It's certainly making me more thankful for the cross. (Psalms is a relief to read after Numbers, I tell ya!)
So, that's how my reading is going so far. How's yours?
Peace of Christ to you,