I can't believe how little I've blogged this month, which should be a good indicator of how I've been feeling.
Tired.
Nauseous.
Tired.
Nauseous.
Tired.
Tired.
Tired.
But happy nonetheless. I've not exactly been a stellar mom this month, either. It's basically been a
month o' movies
. No kidding. This weather does not help either. Rain, cold, cold, cold, rain. There's not much time for bike rides is there? There was this one
incredible
Wednesday afternoon where we passed 60 degrees, though, and I took the kids to the park! They played, I ate (what?), we got the stroller out and walked. It was such a nice break from being cooped up. Then, of course, the weather went right back to doing January things. Hmmph.
This is pretty much what we've looked like this month: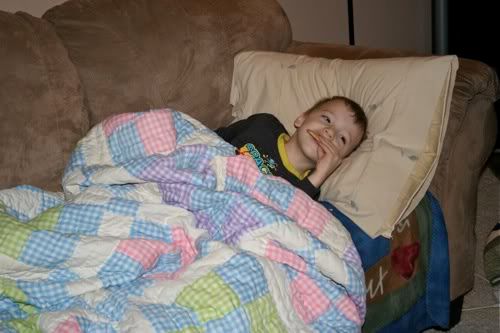 This month some big changes have been made that I haven't had time or energy to blog about, though: 1. My husband went back to work after having surgery and being off for 6 weeks. The kids have made the transition as well as could be expected...they sure love their daddy! They are getting used to it, though. 2. We bought a minivan! The kids (and we) love it. It's like a playground inside for them. They insist on sitting in the very back row...
which is fine with me since it gives a bigger gap between their loud squeals and my ears.
I'm asking my husband if we can install a sound-proof glass.
Yes!
So that's what's been going on around here. I wish I had more energy, but in a few weeks it should start getting better. Even through all the gripes of pregnancy, though, I know how blessed I am. Actually, I've been less sick this time than I was both times before. And when I am sick, it's mostly at night when my husband's home to take care of the kids for me. He even helps with dinner some nights...and does laundry. (
I know...he's awesome!
)
Peace of Christ to you,