This is someone who was special to me--
Katherine Hughey
--my neighbor where I grew up out in the country. She called me her "little neighbor," and even in her 90's, she remembered to call me that when I'd see her.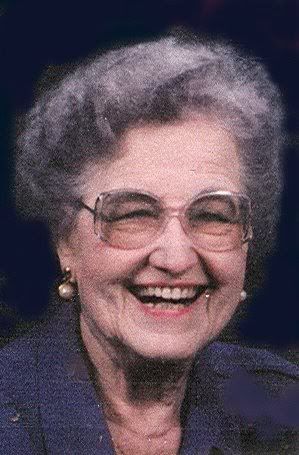 When I was on summer break in grade school, she picked me up for our church's Vacation Bible School. I can remember riding in her car to this day. I'm sad that she's gone, but I'm also glad for where I believe she is--in heaven worshiping Christ.
I also remember one time she opened her home to our youth group. She was in her 80's then, but it was evident that she actually enjoyed us being there--the loud and obnoxious kids that I'm sure we were. I can even recall that we took a spiritual gifts test that night--the first one I'd ever done. I was just taking one again the other day and thought back to that evening in her home years ago.
I smile when I hear Mrs. Hughey say in my head, "Hello, little neighbor!" And I look forward to the day when we're neighbors once again--this time in heaven--where our residence will be for good. And she will see the fruit of those seeds of faith she sowed years ago in my life.
What an incredible reminder to invest in children's lives...even if they're not our own.
Because they're God's.
I think Mrs. Hughey understood that.
Peace of Christ to you,