One week ago (exactly), my 3 year old graduated from speech therapy.
I know!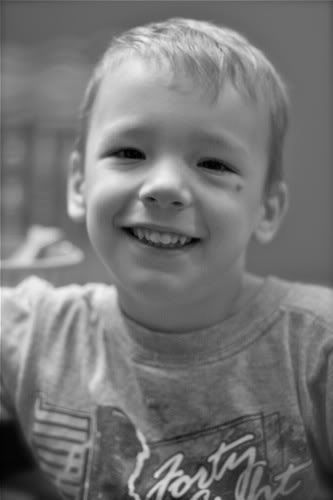 This is a pretty big milestone! Our speech pathologist showed me his progress over all and how we made huge leaps and bounds over the course of 12 sessions. I'm so glad we did it, and I learned a lot of techniques during that year--things I'd never have thought up on my own. And I like our speech pathologist, so admittedly, I'm a little sad that we won't be seeing her anymore.
But of course, I'm thrilled that Keagan has learned how to articulate his words better. He is filling in those skeleton sentences with more
beef
recently, and he's just plain growing up. (Remind me that this is
supposed
to happen, will you?) I do enjoy the fact that he can do more things on his own, though. Each new stage is even more fun than the one we just wrapped up! (Minus tantrums, of course.)
God is so good to me. He has blessed me with these two wonderful children, and He has given my husband and me the high calling to pour HIM into their hearts and lives. It's a little scary at times, but that's why I have Proverbs to remind me that it's worth every ounce of effort we pour out.
And something tells me the reward will be even better than watching Keagan graduate from speech therapy.
Train up a child in the way he should go; even when he is old he will not depart from it (Proverbs 22:6 ESV).
Peace of Christ to you,