I've decided to keep a special notebook for both of my children and fill them with letters I've written to them. Letters on plain ol', regular days--not just "special" occasions. And I plan to give these notebooks to them when they grow up to keep as something they will (hopefully) treasure forever.
I also thought it would be neat to share them here, if you'd like.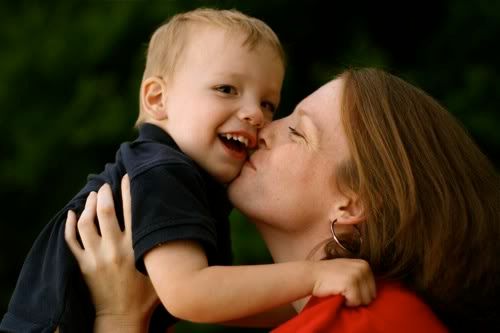 Dear Keagan,
This morning we went to your speech appointment, where you dazzled your speech pathologist, Ms. Sandra—so much that she is going to test you next month and probably turn you loose! I'm realizing right now that this gives me joy as well as sadness...because it means that you are growing up.
And you are growing up; you really aren't my baby anymore. You do so much for yourself these days, like potty breaks, and if I leave the gate in the kitchen down, you even get your own cup out of the fridge! You run to find your sacred Spiderman shoes and put them on all by yourself, too.
I try to snuggle with you on the couch, like this morning, but you grin at me and squeal, "Okay. That's enough, Mommy!" And so I stop. Even though I don't want to.
Two nights ago, your daddy, your sister, and I danced with you in the living room to loud "fast" songs by David Crowder Band. You showed us your new dance moves, and your daddy and I laughed so hard. We nearly wet ourselves when you suddenly did your drop and roll, and without missing a beat, got right back up to dance some more! I'm so glad you love music. You fit well with us! Right now, your favorite song is, "Sing, Sing, Sing" by Chris Tomlin. My heart melts to hear your version of the lyrics: "Sing, sing, sing. And make mukis with the hebens."
Oh, Keagan, you are loved.
Love, Mommy
Peace of Christ to you,