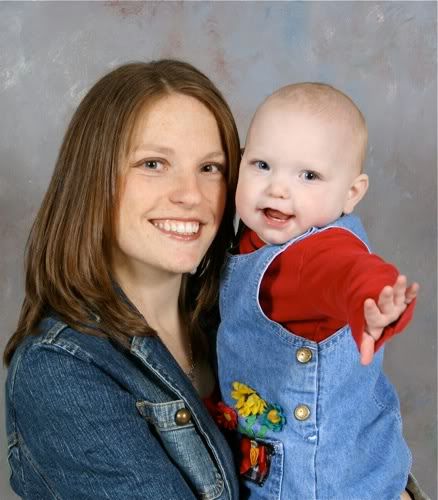 My precious little princess:
I want to tell you just how happy and blessed your daddy and I are to call ourselves your parents. You are our soft, sweet whisper from the Lord. I have prayed for you long before I found out about you! I wanted a little girl so badly; I asked God if He would somehow grant my request and send me a little girl to love and cherish. And here you are.
My heart leaped for joy when Dr. Stewart said those long awaited words: "It's a girl!" I really knew deep down all along that you were a girl, but it was nice to finally know for certain. I will never forget--your daddy and I walked out of the office that day holding hands, unable to control our grinning and laughing with each other because we were so delighted. We talked about how different it would be to have someone so delicate after being accustomed to your brother--our rough and tumble little cowboy. Our hearts were swelling with amazement and fulfillment already.
I called your Mimi right away, before we even got back home to share the incredible news with her. She, of course, was tickled PINK right along with us. She had been waiting to buy you sweet frilly gifts until we heard the news for sure.
Immediately, my mind bustled with every little adventure you and I would share together--the ones our whole family would enjoy, but mostly those sacred moments you and I alone would know together. Middle of the night feedings, afternoon snuggles in the rocking chair, bedtime stories of princes and far away fantastic places, your very first step, first birthday party and all the glorious ones to follow, whether you will enjoy Veggietales like your big brother or not, first word (maybe it will be Mama?), shopping for that perfect dress for your first day of school, first report card, first crush, first job, first kiss...I don't want to miss one single second.
The first time we saw your face was such an exciting moment. You didn't waste any time getting out here to meet us; the doctor barely made it in to welcome you into the world! Your daddy and I both immediately said how you were an exact copy of your brother--with a bow in your hair! We hugged and kissed you and passed you around to Mimi and Papaw to show you off. I will never forget how beautiful your little finger nails were right from the moment you arrived, like you'd already had a manicure! I held your sweet fingers in my hands and breathed a prayer of thanks to the God who ensured your safe delivery into our arms.
Kate, I pray for you every day, and I thank our gracious Father that He somehow saw fit to bless our lives with your beautiful presence. And so, we are giving you to His purpose so that you may become the woman He has created you to be. I commit to live my life before you to be the best example I can of a mother who follows and seeks the Lord. I pray that if I teach you nothing else, that I will teach you how to have a relationship with Jesus Christ. He loves you much much more than your daddy and I love you--and that's more than I can tell you! Never ever forget that you have a purpose that He will fulfill in you one day. Your daddy and I will be here every step of the way that God grants us to guide you and teach you the ways of the Lord.
I wish I could protect you from all the bad things that can and will happen to you, but the harsh reality is that I cannot. You will be disappointed and hurt by this treasure we call life at times; you yourself will disappoint and hurt others. But always remember that no matter what may happen to you or whatever you may do--your daddy and I will always love you, and most of all, Jesus will always love you. He created you in 2007, but He loved you before the beginning of time. I know that these moments of holding and rocking you while you nestle close to me will all too quickly melt away, but I will cherish them always--your precious soft baby smell, your bare gums behind dimpled grins, soothing babbles, miniature fingers that wrap securely around mine. These small wonders will be exchanged for a life of beautiful, mature smiles and intelligent conversations. I will savor every step of this marvelous journey with you.
With all the love I possess,
Mommy