Sunday, May 4, 2008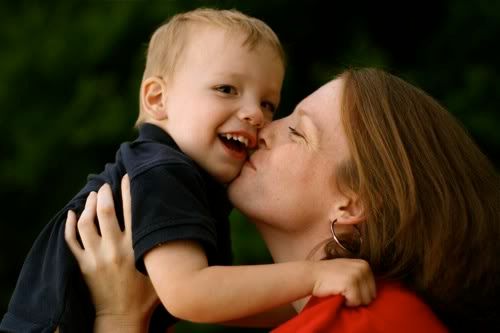 Dear sweet Keagan,
My first—my surprising, joyful, exuberant first:
You have been our little "bud" from the day we were told you were going to be our strong boy. Your daddy and I both quietly prayed that you would be a boy, so our hearts overflowed with joy when we knew God had answered our prayer! You were our refreshing surprise, and you continue to faithfully live up to this humorous truth. I will never forget that we had a kitty named Scout when I found out about you, and I was home with her by myself (Daddy was at work), and I verbalized to her for the first time that I was going to be a mommy! What an awesome and even scary thought! I must admit that I was scared—scared I wouldn't have what other women called that "motherly instinct" to know how to care for you. While you grew in my tummy, every new stage intrigued me and awed me so much that I could lay for hours, waiting to feel you kick one more time. It was the most beautiful feeling I had ever felt. I bought books to read to you, and your daddy placed headphones on my tummy so you could hear the rhythm of "U2". You have been a precious and strong part of our lives from long before we ever saw your sweet face.
Your Papaw called you "Fred" from the second we heard you were a boy right up until the day you joined us. I must admit that I was nervous that he would nickname you that forever, but do you know what he said the first time he saw you? He said, "Hello, Keagan." So, you don't have to worry about "Fred" anymore!
Your daddy was so nervous the night you arrived, but that was the moment when he realized just how much he could love you. He went with you while they put you under the oxygen hood to hold your hand and make sure you were not scared. He took so many pictures of you (imagine that!) and came back to me so that I could see our brand new, handsome little man. My heart melted when I saw that he had gotten a picture of you with your tiny hand wrapped so securely around his finger. You already knew that he was your daddy. That moment meant more than you could ever know to him.
I was scared to death to bring you home that first night, and so was your daddy. We cried together when your skin turned more and more orange by the minute late into the night. You were just a little jaundiced, but we didn't know a thing about babies, so we had no clue what could be wrong! But it didn't take us too awfully long to get the hang of diapers and bottles and burping and of course snuggling. I remember one night I fell asleep, and the next thing I knew, it was morning, and your daddy was in the living room, rocking you. He had held you all night long so that I could get some rest. I think he rather enjoyed the guy time he got with you.
I never knew what people meant by "time flies" until you came along. As I write these words to you, more than two years have slipped between our fingers since you transformed our duet into a trio. We look at pictures of you, and laugh and smile at all of your dimples and hilarious expressions. You have always been our little entertainer and the center of attention. In fact, if I am not paying attention to you, you simply pull my face close to yours and repeat what you were jabbering about! It always makes me smile so big. I have a hard time getting onto you quite often, too, because I'm trying so hard not to laugh at what you have done! Thank you for being such a joy in our lives.
One thing about you is that you are fearless. There are very few things that scare you. I see a smidgen of pride in your daddy's face every time he tells someone how brave you are. Obviously, this daring quality of yours keeps your daddy and me on our toes! But we would not have you any other way.
I want you to know how much you have changed me and matured me. You have made me understand what it means to sacrifice things, what it means to truly love from the depths of my soul, and even what it means to hurt more deeply than I ever could imagine. As I write this to you, you are sleeping in your bed with a fever. I can't stand it when you are sick, because I can't take it away from you. I cherish the moments that we can snuggle together (because you are not a snuggler when you are well), but of course I do not wish sickness upon you just so I can hold you close.
One of my favorite smells in the whole world is your sweet hair when you get out of the bath tub. You play so hard each day and hide away dirt in places I didn't know possible, but your fresh, clean skin returns each night to tickle my nose. I used to hold you as a tiny baby and wonder what sort of things you would some day love to do, and now I am having the time of my life helping you discover those things. You absolutely adore dancing to music, mornings, welcoming Daddy home, shuffling your small feet through sweet grass, saying our prayers together, dogs, flowers, dinosaurs, wrestling matches, pop tarts, bananas, bath time, and even "night night". I draw you close to my chest each night and thank our wonderful Lord that He chose to bless your daddy and me with such an incredible little ball of love and energy like you. You know, your name means "fire ball" or "passionate", and that certainly is what you are. You don't believe in doing anything half-heartedly. Please don't ever let go of this gift.
You have taught me so many things, Keagan, and I am so grateful for them. You have taught me how to trust God and let go of my own will, to laugh at things that I don't want to laugh at right away, to make the most of each day we've been given, and much much more. Just when I feel exhausted and that I am ready for the day to be over, you come into the room holding your little Bible, wanting me to sing the "This is the way we love the Bible" song. You have always known just how to melt my heart. And that's okay. I suspect you always will.
My strongest prayer for you is that you will mature into a man who loves Jesus and seeks His will above all else. I pray that your strong will and bravery will never diminish, and that you will be a leader to others and a follower only of Christ. God promised us that the work He has begun within us, He will never leave undone; He will finish it. You are one of the most precious works God has begun, and I know that He has quite an adventure in store for you! I wish I could press pause and soak you in sometimes, but I know that time must march on, and we must walk with it. I am so proud to walk with you. I promise you that your daddy and I will lead you in the direction we feel is always best, the way we hear God telling us to point you. This journey will not always be smooth and newly paved; you are certainly going to have a few flat tires along the way. But you will never be alone. Never. I pray for the day that you will understand how to trust Jesus Christ as your savior; I can't help but smile to anticipate such an amazing day.
I love you so much, Keagan, and I love being your mommy so dearly. You are truly the tickle to my tummy and the cherry to my pie. I can't wait to see the strong, handsome man God will grow you into. But until that day comes, I will continue to relish every sweet "Mama", every high pitched squeal of sheer delight, every soft kiss, and every new step you take in this great big world. I couldn't be more proud of you.
With all my heart,
Mommy
Friday, May 2, 2008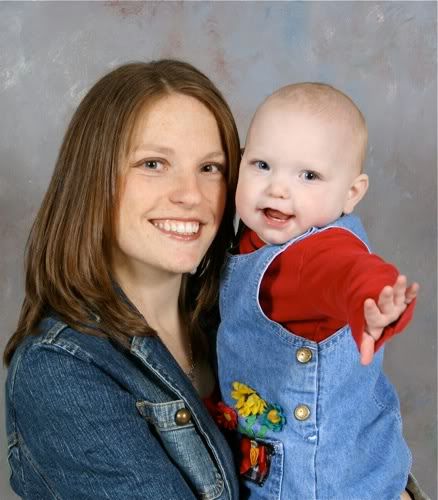 My precious little princess:
I want to tell you just how happy and blessed your daddy and I are to call ourselves your parents. You are our soft, sweet whisper from the Lord. I have prayed for you long before I found out about you! I wanted a little girl so badly; I asked God if He would somehow grant my request and send me a little girl to love and cherish. And here you are.
My heart leaped for joy when Dr. Stewart said those long awaited words: "It's a girl!" I really knew deep down all along that you were a girl, but it was nice to finally know for certain. I will never forget--your daddy and I walked out of the office that day holding hands, unable to control our grinning and laughing with each other because we were so delighted. We talked about how different it would be to have someone so delicate after being accustomed to your brother--our rough and tumble little cowboy. Our hearts were swelling with amazement and fulfillment already.
I called your Mimi right away, before we even got back home to share the incredible news with her. She, of course, was tickled PINK right along with us. She had been waiting to buy you sweet frilly gifts until we heard the news for sure.
Immediately, my mind bustled with every little adventure you and I would share together--the ones our whole family would enjoy, but mostly those sacred moments you and I alone would know together. Middle of the night feedings, afternoon snuggles in the rocking chair, bedtime stories of princes and far away fantastic places, your very first step, first birthday party and all the glorious ones to follow, whether you will enjoy Veggietales like your big brother or not, first word (maybe it will be Mama?), shopping for that perfect dress for your first day of school, first report card, first crush, first job, first kiss...I don't want to miss one single second.
The first time we saw your face was such an exciting moment. You didn't waste any time getting out here to meet us; the doctor barely made it in to welcome you into the world! Your daddy and I both immediately said how you were an exact copy of your brother--with a bow in your hair! We hugged and kissed you and passed you around to Mimi and Papaw to show you off. I will never forget how beautiful your little finger nails were right from the moment you arrived, like you'd already had a manicure! I held your sweet fingers in my hands and breathed a prayer of thanks to the God who ensured your safe delivery into our arms.
Kate, I pray for you every day, and I thank our gracious Father that He somehow saw fit to bless our lives with your beautiful presence. And so, we are giving you to His purpose so that you may become the woman He has created you to be. I commit to live my life before you to be the best example I can of a mother who follows and seeks the Lord. I pray that if I teach you nothing else, that I will teach you how to have a relationship with Jesus Christ. He loves you much much more than your daddy and I love you--and that's more than I can tell you! Never ever forget that you have a purpose that He will fulfill in you one day. Your daddy and I will be here every step of the way that God grants us to guide you and teach you the ways of the Lord.
I wish I could protect you from all the bad things that can and will happen to you, but the harsh reality is that I cannot. You will be disappointed and hurt by this treasure we call life at times; you yourself will disappoint and hurt others. But always remember that no matter what may happen to you or whatever you may do--your daddy and I will always love you, and most of all, Jesus will always love you. He created you in 2007, but He loved you before the beginning of time. I know that these moments of holding and rocking you while you nestle close to me will all too quickly melt away, but I will cherish them always--your precious soft baby smell, your bare gums behind dimpled grins, soothing babbles, miniature fingers that wrap securely around mine. These small wonders will be exchanged for a life of beautiful, mature smiles and intelligent conversations. I will savor every step of this marvelous journey with you.
With all the love I possess,
Mommy